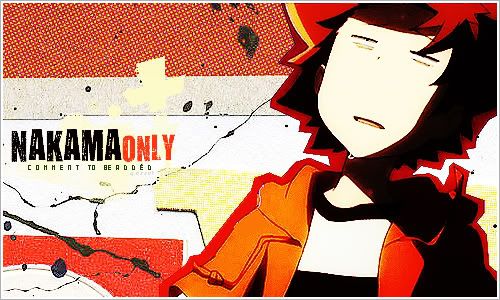 . english:


This LJ is only friends, I want to meet more people who share same fandoms/things with me; that's why.


I'm learning english, hmp, my english is so horrible, pardon me.

. español:


Como dice Tama-chan, este LJ es

sólo

amigos, ¿por qué?, bueno quiero conocer a la gente con quien comparto intereses.


Las entradas serán ingles/español; na, sólo para practicar lo que pseudo aprendo.

. fandoms:
D.Gray-Man, Prince of Tennis, Code Geass, Nabari no Ou, Bleach, xxxHOLiC, Death Note, Naruto, Soul Eater, NANA, Lovely Complex, Paradisse Kiss, Kyou Kara Maou, Ouran Koukou Host Club, Skip Beat!, Special A, Kuroshitsuji, Junjou Romantic, Vampire Knight, Tsubasa Reservoir Chronicle, Eureka Seven, Spiral, Tactics, Hellsing, Harry Potter, etc.

. fan fics/fan art/ fan desing.

circus_night